---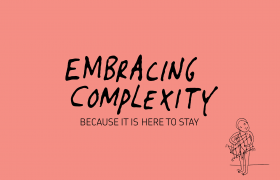 Learn to Embrace Complexity, because it is here to stay.
Product Service System development is hard, but pretending complexity disappears when you ignore it solves nothing. PSS design teaches designers to embrace complexity and discover the rich insights that lead to excellent PSSs.
We asked Jan Rothuizen to come up with an illustration to depict the range of complexities KLM, one of the CRISP industry partners, faces every day with their airport PSS. Because whether you realise it or not, an airport is a PSS too; there are numerous types of users (business travellers, holiday visitors, groups, people with reduced mobility, and children travelling alone), different journeys to be followed throughout the airport (online or onsite checking in, Schengen or Non-Schengen flights, luggage or carry-on), and all of that is supported by a connecting infrastructure that needs to be updated "while keeping the shop open at all times." If passengers were to become aware of the complexity behind their journeys, this would lead to anxiety and stress and affect their travelling experience. It all has to work seamlessly, at all times. To offer passengers a coherent experience, several very different organisations have to work together at the back-end.
What did we get ourselves into?
Not all is what it seems in Product Service Systems: the product part is often not 'a' product at all, but more than one, a whole suite of technically advanced elements and systems that function through a connecting infrastructure. The service part is often also not one but several services, each consisting of many elements, relationships, and interdependencies. And the user of a PSS is hard to identify; in many situations, there are various groups of people, or even a whole segment of society that fit the user role. And what to think of the complex web of stakeholders that needs to be built to create the PSS, and to develop and implement it?
Observations / Approaches to complexity / Implementing PSSs in organisations
read more
About Themes

Wondering about the results of CRISP? Longing to dive into the outcomes of the eight projects? Watch this! We have taken CRISP to a higher level and discovered four overarching themes: designing rela- tionships, orchestration, embracing complexity, and strategic value. Call it serendipity if you want; in our view, these are the future themes

of PSS research!

In the past four years, the Creative Industry Scientific Programme
has explored how we can create knowledge that will help creativity assume a more strategic role in ser- vice innovation for society and the economy. We started the eight pro- jects to stimulate synergy between the two traditional paradigms of product design and service design. But in designing and research-

ing PSS, we found ourselves on completely new ground. About a year ago, we began to ask ourselves, "Can we capture this? Can we find deeper themes that transcend these projects?" To answer these higher level questions, we organised creative sessions where we zoomed out in search of the most relevant, overarching CRISP lessons on

PSS design.

These four overarching themes offer up fresh perspectives on
PSS design. Enjoy reading CRISP's epilogue.


As we dived under the surface, we discovered four intriguing common themes and took the opportunity
to dive even deeper. When CRISP started, the word relationships didn't seem to be relevant. However, after four years, it became clear that, across the eight projects, a PSS is all about maintaining a relationship between the user/consumer and the provider. When we defined designing relationships as a theme, it felt like we had hit a research goldmine.

We all recognise the problem of multi-ownership in PSSs. They are networks! Gradually, it became clear that the system only works well when every player in the system reads the same score. Orchestration is the term that emerged from our discussions and this became the second of our four themes.

We noticed that the extreme com- plexity was an important factor determining how PSS design works. Trying to overcome complexity through forced attempts to simplify things, for instance, led to frus- tration. The only way forward is to acknowledge and accept the intri- guing dynamics of PSSs. This led to the theme of embracing complexity.

Initially, we thought that 'strategy' and 'value' in all their aspects were the sole domain of the CASD pro- ject; the acronym stands for Com- petitive Advantage through Strategic Design. That proved not to be the case. In other projects insights also emerged that contributed to this field. Strategic value is the fourth

of our broad themes and is part and parcel of all CRISP projects.
---